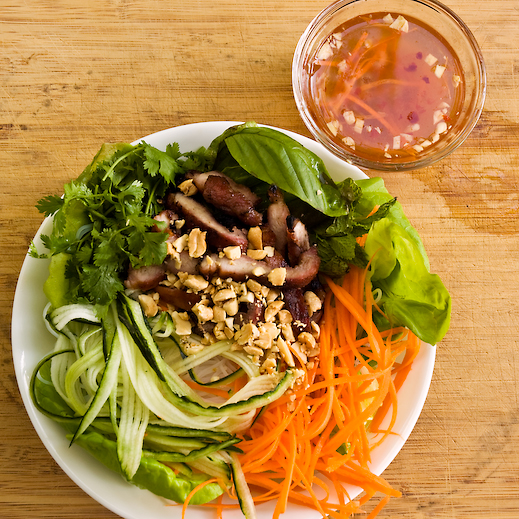 I love the herby brightness in this noodle salad. It is one of my favorite dishes to order out-full of flavor yet light and healthy. It is also a great summer meal since most of the cooking is done on the grill. You can make extra meat for
Banh Mi
, summer rolls, or to make up quick salads for lunch through-out the week.
When I make dishes like this, I like to go for family recipes because I feel like they are authentic yet they work in my environment. As much as I love lemongrass, it isn't an ingredient readily available at most grocery stores. Michelle's recipe is perfect: it has the delicious sweet, salty flavor I was looking for and yet uses ingredients that I can find easily.
Bun Thit Nuong
serves 4, prep 30, cook 15 min, adapted from
Une-deux senses
2 lbs boneless pork shoulder, thinly sliced (you can have your butcher do this for you)
5 tbsp fish sauce
1/4 cup sugar
8 cloves garlic, minced
1/2 tsp cracked black pepper
1 package rice stick vermicelli noodles
carrots, julienned
cucumber, julienned
basil leaves
mint leaves
cilantro
romaine or butter lettuce
bean sprouts
roasted, salted peanuts, crushed
Nuoc Cham (see recipe below)
In a large plastic bag or bowl, combine thinly sliced pork, fish sauce, sugar, garlic and black pepper. Allow meat to marinate at least 30 minutes.
Bring a large pot of water to boil and cook rice noodles about 4 minutes or until soft. Drain and rinse with cold water.
Grill pork over a flame until cooked through and charred at the edges. Allow meat to rest while assembling salads.
Assemble salad with lettuce, herbs, vegetables, and noodles. Thinly slice pork and add it to the salad. Top with crushed peanuts.
Serve with Nuoc Cham.
This classic Vietnamese dipping sauce serves as your salad dressing and is also great alongside
summer rolls
.
Nuoc Cham
makes 2 cups, prep 5 min
1/3 cup fish sauce
1/4 cup sugar
1/2 cup water
2 tbsp lime juice (about 1 juicy lime)
1 tsp sambal oelek
2 cloves garlic, minced
1/2 carrot, julienned
Combine all ingredients in a jar or bowl and shake or stir to mix well. Store in the refrigerator.